Ceasefire monitors call for release of cantonment funds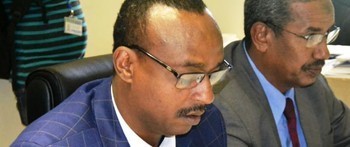 File photo: Desta Abiche Ageno
The body monitoring South Sudan's ceasefire (CTSAMVM) has appealed to the National Pre-Transitional Committee (NPTC) to release sufficient resources for the cantonment process to continue.
The NPTC is a body tasked with the oversight and coordination of the activities of the pre-transitional period.
"Cantonment is the foundation for the security arrangements and without sufficient resources, the cantonment process will fail," Desta Abiche Ageno, the CTSAMVM chairperson said during a meeting in the capital, Juba Thursday.
The official further said cantonment of forces remains far from complete and that screening has not yet even started.
"Registration has stalled while the JMCC [Joint Military Ceasefire Commission] awaits the printing of additional registration forms," he observed.
Abiche also expressed concerns over lack of sufficient logistical support for the cantonment sites, especially food and medicines, which have not yet been delivered to sites.
"CTSAMVM's MVTs [Monitoring and Verification Teams] have observed that some cantonment sites have received no food and no supplies, including Liang and Torpuot," he said.
He, however, revealed that all cantonment sites within MVT Bor's area of responsibility received food or money for food several months ago, but all these items have since run out.
"The provision of tents and medicines is still a challenge," Abiche said.
Meanwhile, the ceasefire monitoring body's chairperson lauded both the government and the opposition forces for vacating the civilian buildings they had earlier occupied.
He nevertheless said opposition forces are still occupying one civilian building while government forces occupy 24.
"Any occupation of civilian buildings will result in a direct violation report at our next CTC [CTSAMVM Technical Committee," he stressed.
On November 7, President Salva Kiir and opposition leader Riek Machar agreed to give themselves another 100 days beyond the November 12 deadline to form a unity government.
President Salva Kiir, opposition leader Riek Machar and a handful of other groups signed the peace deal in September 2018. However the parties have failed to create a unified army and determine the number of states since the deal was signed.