Ceasefire does not include Pagak, government spokesman says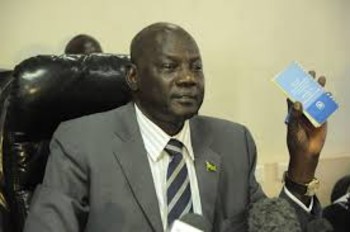 File photo: Michael Makuei Lueth
The countrywide unilatral ceasefire declared by President Kiir does not include Pagak area, which was established as the opposition headquarters when civil war began in late 2013, a top government official said.
This comes after the world body accused government troops of launching offensives against a rebel stronghold in the north of the country.
Information Minister Michael Makuei told Radio Tamazuj this afternoon that rebel forces loyal to former vice president Riek Machar had rejected the government's offer of a ceasefire.
"The SPLA-IO movement led by Riek Machar does not recognize the peace agreement. It is saying the signed peace agreement is over, so they are not part of the peace agreement. The area of Pagak has nothing to do with the ceasefire deal," he said.
"The party to the peace agreement is the peace wing led by Taban Deng Gai. We don't have any problem with the peace wing led by Taban Deng. The President had declared a unilateral ceasefire but they [rebels] failed to reciprocate the unilateral ceasefire and started attacking our positions, then we have the right to defend ourselves," he added.
Makuei, who is the government spokesman, reiterated his government's commitment to respect the ceasefire declared by President Kiir, but said the army has the right to fight in self-defence in case of attack on its defensive positions.
At least 25 aid workers were reported evacuated from Pagak, and escalating clashes in the nearby Mathiang area forced thousands of civilians to flee.