Cattle keepers, farmers commit to peaceful co-existence in W. Bahr el-Ghazal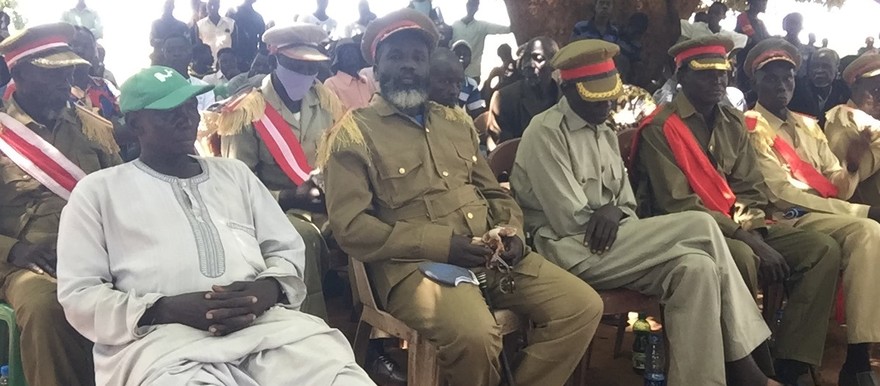 Local farmers in Kuajina Payam, Jur River County in Western Bahr el-Ghazal State, and pastoralists from Pagol Payam of Tonj North County in Warrap State have recommitted to peacefully living and sharing natural resources during seasonal cattle migration in the area.
This was underscored in Kuajina Payam on Friday by both parties during a ceremony organized with support from International Organization for Migration (IOM), the UN Food and Agriculture Organization (FAO), and local NGOs operating in Western Bahr el Ghazal state.
The farewell ceremony marked the end of the cattle seasonal migration into the Luo lands and the return of cattle to their homes based on the Marial-Bai cattle seasonal migration agreement signed by both parties four years ago.
According to the agreement, cattle keepers are to be welcomed yearly in February to the farming areas and again given a farewell in May when they go back home.
The cattle keepers applauded the cooperation they received this year from the farmers and said they did not lose any of their animals to theft.
Aken Aleu, the Pagol Payam cattle headman, said: "It is very good my people, peace is good. I sleep well. I came at the start of the season and we talked with the executive here. I thanked you so much and if God is there, you will sleep in peace because I don't have anything that I am asking you to account for."
"Chief Kon Aleu, all my cattle which were here, nothing got lost. Only that one man called Madhan Lual was beaten, he was beaten by the IO, but this will be handled by the government because it was something agreed that nobody is allowed to carry a rifle. He will explain why he was beaten," the headman added.
For his part, the chief of Mbili, Kon Aleu, acknowledged that peace has prevailed because the cattle keepers came without guns this year.
"Is there anything which happened to your cattle this year? The gun is the problem dragging us into conflict, it is not us. If you get somebody carrying a gun, he will not listen to you. You sometimes say it is us the chiefs that are causing problems. We are causing problems. Today, as we agreed that there will be no movement with guns, that is why we are in peace today," Chief Kon Aleu said.
He advised the signatories to the Marial-Bai agreement to stick to its principles so that peace can prevail between the two communities.
"I thank you so much. Our youth here are not having guns and that is what gave us peace today," Chief Kon Aleu said. "We need to focus on next year because we have ended this year peacefully. God has helped us and you are now going back to your origin."
On behalf of the government, the executive director of Kuajiena Payam, Eissa Marko Ujuomo, said despite the long outstanding conflict between cattle keepers and local farmers of Warrap and Western Bahr el Ghazal states, normalcy is now restored.
"As you all know, areas in Jur River and Tonj counties were having problems between farmers and herders for a long period. After people sat and agreed through the dialogue of Marial-Bai agreement and we are here today through the implementation of the Marial-Bai agreement," Ujuomo said.