Catholic radio station in S Sudan silent for 19 days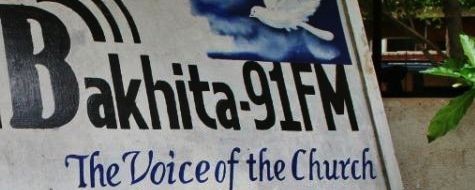 Bakhita FM radio station in South Sudan's capital Juba was silent for the 19th day on Wednesday after the government shut down the station by force and made threats against its staff.
South Sudan's government has provided no written or legal explanation for why it shut down Bakhita FM, which is named after Josephine Bakhita, a former Sudanese slave who was canonized as a saint by the Catholic Church.
The radio station was shut down on 16 August when South Sudanese National Security Service agents raided the station, detained several journalists and seized the key to the station.
Security agents who raided the station have not yet returned the key, which was seized without any warrant of search and seizure.
An editor of the station who was initially detained when the station was raided was released several days later, without having been charged of any crime.
Another two Catholic radio stations in South Sudan also went off-air this week for technical reasons.
Voice of Hope in Wau went off-air for about two days after being hit by lightening, but resumed broadcasting yesterday, and Emmanuel Radio in Torit went off air since yesterday due to power supply problems.
Related:
Juba Catholics want church radio back on air (31 Aug.)
Timeline: Violence against churches in South Sudan (29 Aug.)
Sout Sudan aims to censor Catholic Church radio (21 Aug.)
Timeline: media struggle in South Sudan (18 Aug.)
South Sudan's president skips Mass after shutting down Catholic radio station (17 Aug.)