Catholic bishops demand justice for Kajo Keji murder victims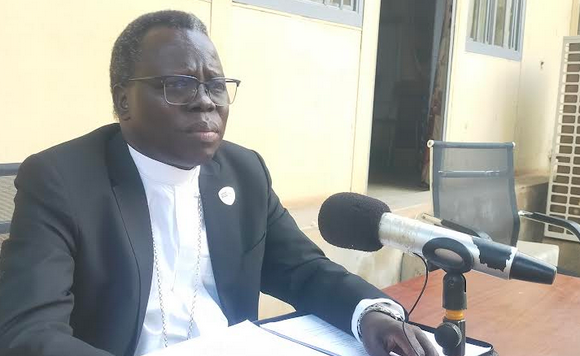 Archbishop Stephen Ameyu addressed the press on Monday. (Photo: Radio Tamazuj)
The South Sudan and Sudan Catholic Bishops' Conference on Monday demanded justice for the innocent civilians who were gunned down in cold blood in Lire Payam of Kajo-Kaji County in Central Equatoria State last week.
Last Thursday, pastoralists from Bor County in Jonglei State who are grazing their cattle in Kajo Keji County gunned down 21 people in a revenge attack after an attack on the latter's cattle camp left 6 dead and another 6 people injured.
Addressing a press conference in Juba Monday, Archbishop Stephen Ameyu Martin Mulla, the Metropolitan Archbishop of the Catholic Archdiocese of Juba, called on the government to take serious steps in bringing to book the perpetrators of the killings. 
"We were saddened to hear about the brutal murder of twenty people or so in Kajo-Keji town and we deeply regret the killing of the innocent people in their locality and condemn the other killings that happened previously," he said. "We as Catholic bishops ask the Government of South Sudan to take serious steps to apprehend the killers and put them to law. No killing is justifiable."
The prelate added: "We send the message of sympathy and condolences to the families, relatives, and friends of the deceased, may rest their souls in eternal peace."
Archbishop Ameyu revealed that Pope Francis who just visited the country was saddened by the killings and called on the government to take responsibility to address the issue of pastoralists and their cattle marauding around the farmers' areas.
"The Holy Father was saddened like anyone of us but had to continue with his important visit. We understand that the Archbishop of Canterbury already made a very strong comment regarding the killing of over 20 people in Kajo Keji," he said. "This means the three churchmen were aware of the information that came from Kajo Keji town and they were very saddened by the killing of the innocent people."
Ameyu said the church is always saddened when innocent people are killed and the authorities keep silent because security is the government's responsibility.
"The protection of the people is on the government so the government should be the first to come out and see what had happened," he admonished.  "Maybe now after the visit of the Holy Father, we will ask this government to continue to look for those who are killing people on the way, even their villages."
He said there has been friction between pastoralists and farmers since 2017 and that this made President Salva Kiir issue a decree ordering herders and their cattle to return to their places of origin but it was not obeyed.  
"It is unfortunate that, especially in Central Equatoria, these killers have not yet been apprehended and we would like to encourage the government to take responsibility because silence will be like condoning the killing of innocent people," Ameyu said. "We believe that the government is trying its level best to pressurize the herdsmen but not so much."