Cargo plane crashes in Wau, crew survives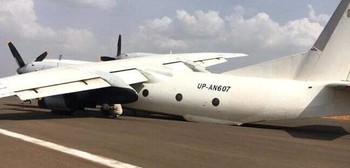 Crew members have survived a cargo plane crash that occurred in the town of Wau in South Sudan on Thursday afternoon, officials at the airport have confirmed.
Hakim, who works at the Wau airport, told Radio Tamazuj that the plane touched down on the runway but its landing gear failed, pointing out that the aircraft was travelling from Kuajok to the northern town of Wau.
"The plane did not burst into flames. The plane had landing gear problems only, so the crew members have been evacuated safely," he said.
"The airplane was carrying medicines," he explained
After the accident, he said, the UN peacekeepers hurried to the spot to remove the plane from the runway.