Cardinal Group tractors still not ready for South Sudanese farmers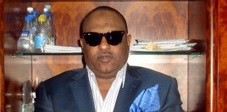 South Sudan's Minister of Agriculture Beda Machar says that the 1000 tractors recently imported at the initiative of President Salva Kiir are still not ready for distribution as there are not trained drivers and mechanics to look after them.
The tractors were sold to the South Sudanese government by a Sudanese company, Cardinal Group. At the launch event for the tractors in April, a Cardinal company representative confirmed to Radio Tamazuj that they supplied the tractors to the government but declined to reveal the total contract price.
South Sudan's government initially announced that President Salva Kiir 'donated' the tractors to the Agriculture Ministry, but officials later clarified that they were bought with government funds. Sources also revealed that the tractors were procured outside of normal contracting procedures after contacts were made between presidency officials and the Cardinal Group.
The agriculture minister said that drivers and mechanics are currently being trained to operate the 1,000 thousand tractors, Radio Miraya reported yesterday.
Radio Tamazuj previously reported that the parliament never approved for purchase of the tractors and the agriculture ministry was not given the means or the budget to distribute them to South Sudanese farmers for the current agriculture season.
Efforts by Radio Tamazuj to contact the director of Cardinal Group for more information about the tractor deal have been unsuccessful. Other company officials declined to speak to the press.
File photo: Ashraf Seed Ahmed Hussein 'Al Cardinal', head of the Cardinal Group, which supplied the tractors to South Sudan
Anyone wanting to comment on this report or send further information should contact Radio Tamazuj here.
Related:
South Sudan censors 'Belarus' tractors story (9 May)
Exclusive: South Sudan finance ministry bypassed in multi-million dollar tractor deal (26 April)
Salva Kiir 'donates' 1000 tractors (17 April)