Campaign to vaccinate 2000 women in Unity state begins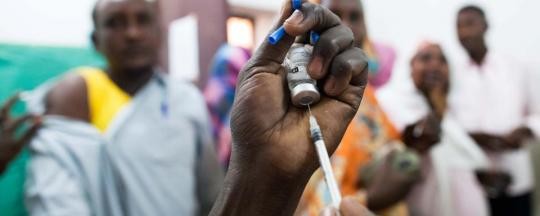 A tetanus vaccination campaign was officially launched yesterday in Unity state, targeting 200,000 women between the ages of 15 and 49 years old.
Lubna Abdel Qani, the acting State Minister of Health, said that the campaign will continue for seven days and is to consist of 237 teams.
"I am the first woman who got vaccinated in order to encourage the women to participate in the process," the minister announced.
The first day had witnessed a great turnout, claimed Lubna, and was followed by a ceremony attended by state government authorities, representatives of non-governmental organizations (NGOs) working in the area, UNICEF and members of the state legislative assembly.
South Kordofan refugees residing in Unity state's Yida camp will be included in the campaign.
Photo: At the Teaching Hospital in El Geneina, West Darfur, staff members receive vaccinations against Yellow Fever (Albert González Farran/ UNAMID)