Pochalla County -
24 Jan 2023
Calm returns to Pochalla County after tension between SSPDF, local youth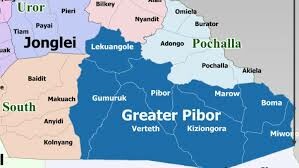 The acting commissioner of Pochalla County in the Greater Pibor Administrative Area (GPAA) has said relative calm has returned to the county following tension between elements of the South Sudan People's Defense Force (SSPDF) and local youth on Sunday.     
Akway Gora Ajou, told Radio Tamazuj Monday that the tensions started after SSPDF soldiers threatened him but were contained on Monday after he met the army leadership in the county.
"There was tension in Pochalla on Sunday. What happened was that there was a misunderstanding within the military barracks over some changes in the army leadership which caused fear among the locals," he explained. "So, when I went to the office to resolve the matter, some elements of the SSPDF held me at gunpoint in my office and this angered some local youths leading to tension."
Commissioner Gora said he did not understand why the soldiers held him at gunpoint and said he is responsible for security in the county.
"I do not know why they cocked their guns at me because as the commissioner, I am responsible for everyone in Pochalla including the army," he said. "Today (Monday) I went to the military barracks and the acting commander there assured me that the situation will remain calm."
Meanwhile, Ojullo Oman Akway, the head of the Pochalla Youth Association, condemned the incident and called on the national government to intervene, saying Sunday's incident was premeditated.
"All these recurring incidents in Pochalla started after we publicly disowned the GPAA government and demanded a separate administration but the national government has remained silent on our demands and we are instead being provoked and called rebels," he said.
For his part, Lt. Col. Omot Oman Alak, the acting SSPDF commander in Pochalla, confirmed that calm has been restored and that the incident is being investigated.
"What happened over the weekend was that there was a communication that our commander was replaced. While we were waiting for Monday for the handover, some group of officers took up arms creating confusion by claiming that our former commander was rebelling," he clarified. "I do not understand who influenced them and I am now in communication with the army leadership so that they are investigated and disciplined."
When contacted, the SSPDF spokesperson, Gen.Lul Ruai Koang, said he was yet to get details about the incident. 
In April last year, the Kachipo community, also known as the Suri, said they wanted to exit the GPPA and demanded a separate administrative area over alleged marginalization. However, GPPS officials countered by dismissing the Kachipo demands and said the issue can be resolved through dialogue.