Calm conditions for President Kiir's visit to Wau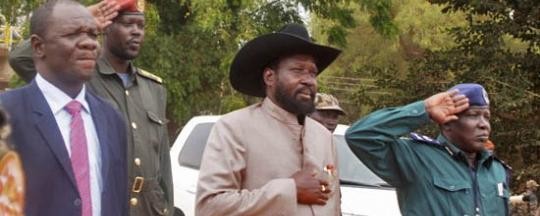 South Sudan President Salva Kiir is expected to visit Wau today, for the first time since the protests and clashes that claimed the lives of more than ten citizens and injured dozens.
The protests stemmed from the decision to move the Wau County headquarters to the Baggari area.
Wau, the capital of Western Bahr El-Ghazal state, has returned to stability over the last two days, with markets and government institutions reopening and civil servants receiving their monthly salaries.
Speaking to Radio Tamazuj, a government source reported that the President would address the public today from Wau Football Stadium.
File photo: Governor Rizik Zacharia (left) during a visit by President Kiir in late 2011 (Gurtong Media)