Cabinet says 'no' to peace wing's cantonment site in Maridi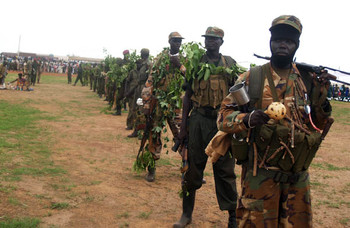 File photo: SPLA celebration held in Wau in 2012 (Gurtong/James Deng Dimo)
The government of Maridi State says it won't accept the establishment of a cantonment site for members of the armed opposition faction of the Sudan People's Liberation Army (SPLA-IO) led by First Vice-President, Taban Deng Gai in Maridi state.
The SPLM-IO faction led by Taban Deng Gai, which also called itself the 'peace wing' remained a part of the South Sudanese government following fighting in July last year.
Speaking to reporters after a cabinet meeting on Thursday, Peter Saki, Maridi's Minister of Information, said:" The council of ministers has rejected the SPLM-IO cantonment or assembling area around the areas of Maridi state."
He said the request to assemble the opposition forces was recently made by the First Vice-President Taban Deng Gai.
"It has been made clear before that there was a place which has been identified for the forces to canton, so in the greater Western Equatoria state before there was one cantonment area for the forces of the SPLA-IO that is in the area of Amadi, particularly in Kadeba," Saki said.
Saki, who is also the state government spokesman, pointed out that the government of Maridi state will not give land for Taban Deng's forces in Maridi state because it was never identified as a cantonment site.
The word 'cantonment' describes a site where military units are usually encamped for a long period of time. Chapter 2, Article 2 of South Sudan's peace agreement requires the "separation, assembly and cantonment of forces previously in combat."