Cabinet orders arrest of Wau violence perpetrators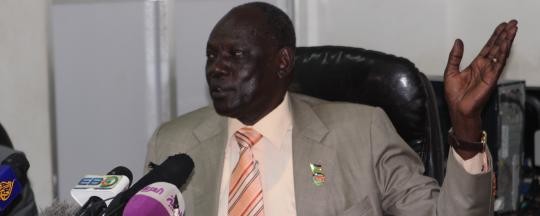 South Sudan's cabinet on Tuesday ordered the arrest of the perpetrators of Wau violence, where dozens of innocent people were reported killed.
Eyewitnesses reported that government-aligned militia targeted local residents based on their ethnicity in residential areas during the latest upsurge in fighting in Wau town, nothwastern South Sudan.
Speaking to reporters after an extra-ordinary cabinet meeting on Tuesday, Michael Makuei Lueth, South Sudan's Minister of Information, said:"I would like to reaffirm that the situation in Wau is calm and it is under the government control."
Makuei, who is also the government spokesman, said the cabinet also condemned in the strongest terms possible the recent attacks on civilians in Wau town.
He pointed out that investigations are underway and that anyone found guilty will be brought to justice. The official urged families of the victims not to take law into
their hands.
On Monday, the Political Bureau of the Sudan People's Liberation Movement (SPLM), the governing party of South Sudan, also condemned the events that took place in Wau.
The party leadership urged Wau citizens to refrain from further violence and revenge as the unity government tries to resolve the problem.
Photo: South Sudan's Information Minister, Michael Makuei speaks to reporters at a press conference held in Juba on October 13, 2016. (Radio Tamazuj)