Cabinet holds its last meeting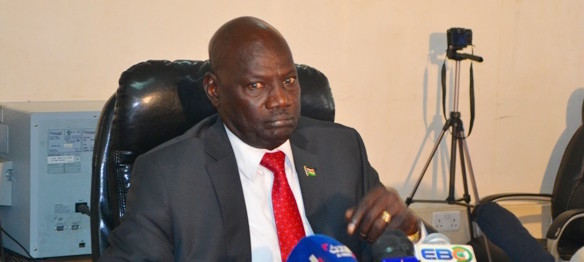 File photo: Information Minister Michael Makuei
South Sudan's President Salva Kiir has presided over the last cabinet meeting today before the formation of a transitional government of national unity.
The incumbent government would be dissolved this evening, as President Kiir and opposition leaders plan to form a coalition government on Saturday.
Speaking to reporters after the cabinet meeting, which is normally held in Juba on Friday, Information Minister Michael Makuei said Kiir has chaired his last cabinet meeting ahead of the formation of a new unity government.
"The president informed the cabinet that this is the last cabinet meeting for the pre-transitional period," Makuei said.
According to Makuei, President Kiir would sack the entire cabinet and the two vice presidents this evening. Makuei, who is also the government spokesman, said Kiir would appoint his five vice presidents, including opposition leader Riek Machar this evening.
"The vice presidents will take the oath of office at J1 tomorrow. The oath taking will be attended by the head of Sudan's Sovereign Council, President of Uganda and Prime Minister of Ethiopia," he said.
"You as journalists, I hope that my successor would come and continue to cooperate with you, and I wish you good luck in your profession," Makuei added.