Brits get bookish: 9.3 mln textbooks for South Sudan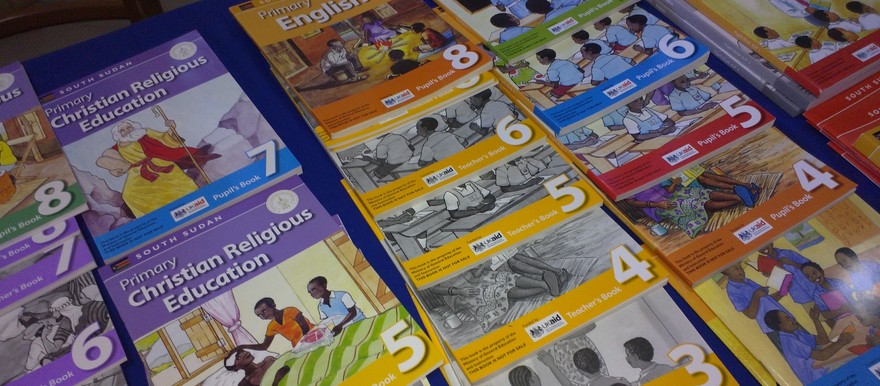 The British government has launched a project in South Sudan to distribute books, which are still extremely rare in the country. In the coming months the company Charles Kendall, under contract by the UK Department for International Development (DFID), is expected to deliver 9.3 million textbooks to primary schools and alternative education centres.
The effort will be the first nationwide distribution of textbooks since the SPLM took over the region more than seven years ago. Education officials at a curriculum center in Yei, south-west of the capital Juba, helped write the books.
Introduction of English-language textbooks on a vast scale will contribute toward the gradual eradication of Arabic, which is still informally the main language of instruction in many parts of the country. Until now most of South Sudan's schools have either had no textbooks at all or have used textbooks from neighboring countries, relying especially on the curricula of Uganda, Kenya and Sudan.
"These textbooks will help two million children," said Lynne Featherstone, UK Minister for International Development, speaking at a launch event in Juba on Monday.
Featherstone said that the books were slated to arrive over the next four months in time for the 2013 school year. According to a tender notice issued earlier this year by the company Charles Kendall, the distribution effort will involve shipment of 20 foot containers to 80 county locations and possibly also direct delivery to approximately 4,500 schools.
"Proper management, proper care and usage" would be challenges to the effort, noted Featherstone.
Hon. Joseph Ukel, South Sudan's Minister of General Education, said the project would cost the UK government $16 million.
Other South Sudanese officials in attendance included Undersecretary Deng Deng Hoc Yai and the education ministers of the states of Central and Eastern Equatoria. The president Salva Kiir Mayardit was initially expected to attend, according to an agenda distributed at the event, but he was represented instead by his advisor on economic affairs, Aggrey Tissa.
The presidential advisor applauded the UK contribution: "It's a huge, monumental undertaking."
On the other hand, the Education Minister pointed out that not only primary pupils but also secondary pupils were lacking school materials. Other officials likewise acknowledged that the South Sudanese government has failed to develop textbooks for secondary schools and asked the British donors to intervene.
"I did hear what you said about secondary schools, honorable minister," UK Minister Featherstone remarked.
Featherstone's visit to South Sudan was her first overseas trip since her appointment as UK Minister for International Development, according to Ambassador Alistair McPhail.
Photo by Radio Tamazuj