British ambassador inspects Renk camps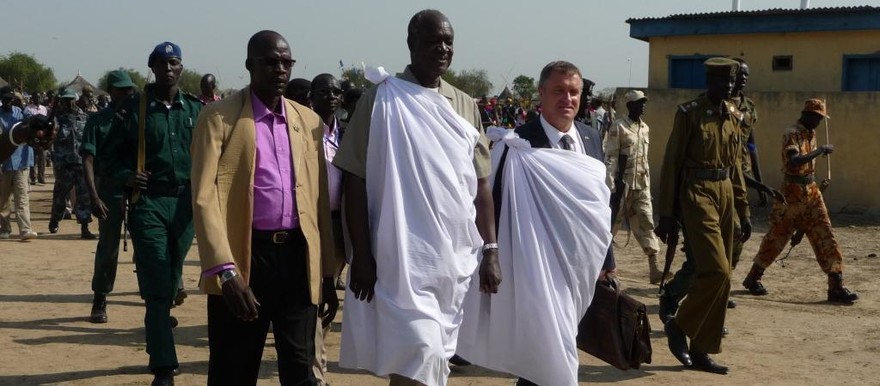 The British Ambassador to South Sudan Alastair McPhail last Wednesday paid a visit to the returnees camps in the Upper Nile region together with the United Nations representative in Upper Nile state. During inspections of the camps he heard complaints from returnees that they have stayed in the camps for too long waiting for authorities to transport them to the areas of origin.
The ambassador in remarks at Abayok camp said that he came from Juba to see the situation of the returnees. A number of returnees were reported to have received the visitor with expressions of deep grievances and frustration.
"What we want – our demand is to be repatriated," Abdullah Kiir Deng, a chief at Mina camp said in the presence of the ambassador. The chief said that security in the camp was good, but the problem was the lack of onward transporation, inadequate food and medicines.
The ambassador speaking in Mina camp said that he would raise the returnees' issues with the South Sudanese government and diplomatic community in Juba. In other remarks the same day at Faywar camp he said, "I hope that your situation can be resolved and that the relevant authorities are able to move quickly… We have heard your messages loud and clear."
Citizens at the Abayok, Faywar and Mina camps told Radio Tamazuj that the visit resonated widely among returnees. "We are urging Mr. Ambassador to transport us back as we have some of our children who had gone ahead already are suffering there as we are here," one returnee said.
Other sources in Renk County acknowledged that the ambassador met also with farmers and pastoralists' representatives.
File photo: British Ambassador to South Sudan Alastair McPhail with Jonglei Governor Kuol Manyang in Yuai, December 2012 (UK Embassy)
Related coverage: Migrants stranded and hungry in Abayok (25 January 2013)