Brit amongst four arrested in Heglig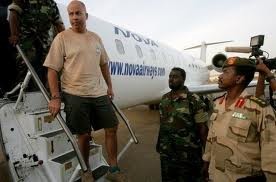 The British embassy in Khartoum announced on Sunday that one of its nationals was among the four foreign personnel arrested on Saturday in Heglig.
Sudan arrested the four in the disputed border area on Saturday accusing them of working for South Sudan.
A British embassy representative told AFP, "We are urgently investigating the arrest of a British national in Sudan."
Sudan's military spokesman Al Sawarmi Khaled Saad said Sudanese forces arrested four foreigners including a British citizen, a Norwegian, a South African and a South Sudanese.
He said they had been transferred to Khartoum for 'further investigation'.
The spokesman said the four were captured in Heglig collecting evidence of fighting.
He said they all have a military background and were carrying military equipment and travelling in a military vehicle at the time.