TWIC CENTRE -
27 Feb 2018
Bring peace to greater Jonglei, authorities plead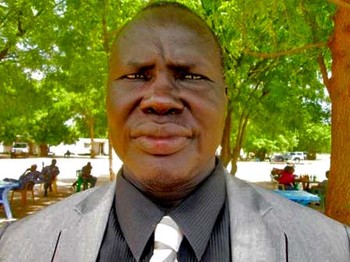 Photo: Commissioner of Twic East County Dau Akoi Jurkuch calls for protection of civilians in Twic East County. [Gurtong Jacob Achiek Jok]
Authorities in Twic Centre County of South Sudan's Jonglei State are calling on the national government and the United Nations Mission in the country to intervene and facilitate peace conferences in the region to bring an end to the recurrent cattle raids and child abduction in the area.
Speaking to Radio Tamazuj on Monday, Dau Akoi Jurkuch, the commissioner for Twic Centre County said gunmen suspected to be from Murle have been terrorizing the greater Twic area and undermining many peace conferences aimed at improving the relationships between the two neighboring communities.
Akoi said in a recent cattle raid, one person was killed during clashes. "No cattle were taken as they were rescued by local youth," he said.
The two communities in Jonglei and Boma States have been trading accusations over cattle raiding and child abduction incidents.
Late last year, communities in greater Jonglei resolved to end the cycle of inter-communal fighting and embrace peaceful coexistence after a peace conference organized in Duk Padiet, and attended by governors from Jonglei, Fangak, Bieh and deputy governor for Akobo and representatives from Boma states.