Stephen Buay captured in fighting in Mayom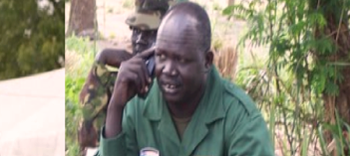 The former commander of the SPLA's fifth infantry division in Wau has been captured by government forces commanded by Gen. Mathew Puljang during fighting in Mayom today evening.
The captured army general was accused of rebelling against the Kiir administration in Mayom today morning.
Kuichiang Kuol Gau, commissioner of Bul South County, told Radio Tamazuj that Gen. Stephen Buay Rolnyang has been captured during fighting between his troops and forces commanded by Gen. Mathew Puljang, the special operations commander in Unity region.
"Gen. Buay has just been captured alive in the Joknyang area after clashes, and he is now here with Gen. Mathew Puljang Top," the commissioner said.
Kuol said clashes between the two forces started in Uraj area in Mayom. He pointed out that Gen. Buay Rolnyang refused to meet a military committee assigned to meet face-to-face in Mayom.
The local official said the army general Stephen Buay rebelled against the government today morning.
Gen. Buay's associate also confirmed the incident saying his former commander in Wau has been captured during heavy clashes in Mayom this evening.