Kiir signs contentious National Elections Bill into law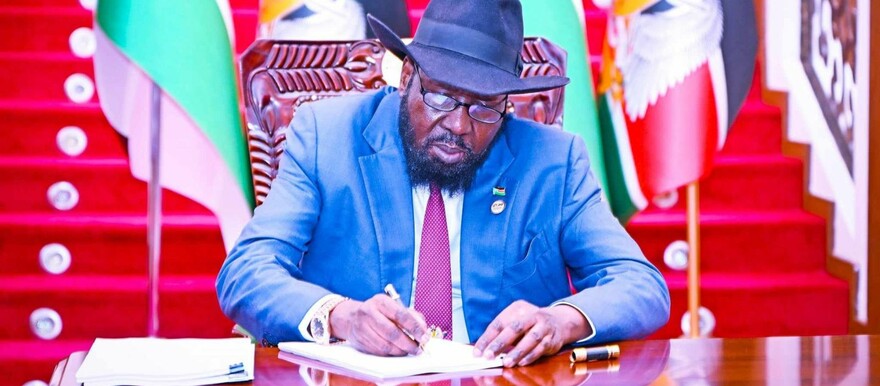 President Kiir seen signing the National Elections Act, 2012 (Amendment) Act, 2023 Bill on Tuesday. Courtesy photo)
President Salva Kiir on Tuesday signed the National Elections Act, 2012 (Amendment) Act, 2023 Bill into law, the Office of the President said in a brief statement.
The speaker of the Transitional National Legislative Assembly, Jemma Nunu Kumba, is quoted by the president's press department as saying that the bill is an important element of the revitalized peace agreement and for the process of elections to commence.
"In conclusion Rt. Hon. Nunu (Kumba) added that the country is now ready to start the preparation for the elections by putting in place the mechanism for parties to do elections," the statement said.
On 18 September, the Sudan People's Liberation Movement in Opposition (SPLM-IO) expressed strong dissatisfaction over parliament's passing of the National Elections Act, accusing the Sudan People's Liberation Movement (SPLM) and its allies of employing what it describes as a "mechanical majority" to push through bills without achieving a consensus.
This outcry follows a dramatic turn of events when SPLM-IO legislators, led by the House's First Deputy Speaker Nathaniel Oyet Pierino, walked out during the voting process of the National Elections Act 2012 (Amendment) Bill 2023.
The primary reason for the boycott was the insertion of a new section in the Election Law which grants the president the authority to appoint additional members of parliament after elections.
During a press conference held by the SPLM-IO Parliamentary Caucus after the vote in parliament, Oyet strongly criticized the actions of SPLM-IG and its allies, alleging that they had violated the Revitalized peace agreement.
"The decision by the SPLM-IG and its allies is contrary to the provision of the Revitalized Agreement, Article 1.2.13, which states that the National Election Commission shall conduct free, fair, and credible elections before the end of the Transitional Period and shall ensure the outcome reflects the will of the electorates, read together with Article 1.20.5," he charged. "In the Ordinary Sitting No, 25/2023, dated Monday, September 18, 2023, the TNLA deliberated on the report of the Standing Specialized Committee on the National Election Act, 2012 (Amendment) Bill, 2023, in its Third and Final Reading stage. Some members of the August House, particularly from the SPLM-IG and its allies, decided to introduce a new Section in the Bill seeking to empower the President of the Republic of South Sudan to appoint, after elections, an additional number of Members of Parliament."