Malong's associates join rebels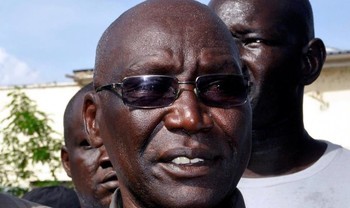 File photo: Paul Malong addresses the media after returning to Juba, May 13, 2017. REUTERS.
Associates of the exiled former army chief Paul Malong Awan, who have recently gone into hiding in Aweil East State over alleged security concerns, have joined rebels operating in Northern Bahr al Ghazal region.
"I have arrived in Malek Gumel. I have joined General Agany because I have been chased away by the government," Manut Yel Lual, an ally of former military chief, told Radio Tamazuj this evening.
Manut, who was a tax collector and former Madhol commissioner, said he and other people decided to leave their homes in Aweil East because they were being targeted by the government.
He claimed that he joined the rebels with 1,500 soldiers including officers." I joined General Agany because I was chased away in South Sudan. We will be together with Agany," Manut said.
The new rebel official pointed out that their group that joined Agany's rebels in Northern Bahr al Ghazal is led by Kuol Athuai Hal, former Aweil North county commissioner.
Lt. Gen. Agany Abdel-Baqi Ayii, commander of the South Sudan Patriotic Army (SSPA), confirmed that Malong's associates have finally joined his rebel movement.
The rebel group commanded by Agany Abdel-Baqi, who is a native of Aweil, has been fighting to topple Kiir's administration.