Gatwech ousts Machar as SPLM/A-IO Commander in Chief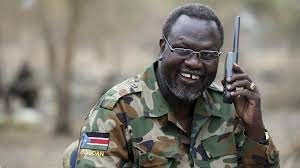 Prominent military leaders of the SPLA-IO have this evening announced the ouster of SPLM/A-IO Commander in Chief Dr. Riek Machar Teny replacing him with Gen. Simon Gatwech Dual, the former SPLA-IO Chief of General Staff.
The decision follows the escalation of military and political tensions between the movement's leader and the First Vice President of the Republic Dr. Riek Machar and some of his army generals, led by Gen. Gatwech, and Gen. Johnson Olony.
Chol Deng, the new spokesperson for the movement, told Radio Tamazuj this evening that the military leaders met in the Kit Gwang area of Magenis in Upper Nile State and made the declaration.
"After a meeting of the military council in the area of ​​Kit Gwang, known as Magenis, the military leaders decided to dissolve the political office and the military council of the movement, and to dismiss Dr. Riek Machar, from the leadership of the movement, starting from August 3, 2021," he said. "The military council decided to choose General Simon Gatwech Dual, Chief of Staff of the Army, as the head of the movement and the commander-in-chief of the SPLM-IO forces as of August 3, 2021."
Deng said Machar no longer represents the interests of the movement and the people of South Sudan.
A statement by the group accused Machar, the former head of the movement, of poor governance, lack of transparency, and nepotism.
They further accused Machar of taking unilateral decisions without consulting both the liberation and military councils of the movement, undermining its vision. It also dissolved the SPLM/A-IO Political Bureau and the National Liberation Council.
"General Simon Gatwech Dual, Chief of Staff of the army, General Thomas Mabor Dhul, commander of Division 3 and General Johnson Olony, the commander of Division 1 attended the meeting," Deng said.
They also directed the movement's representatives to all peace mechanisms to report to Magenis for consultations, while appealing to all political and military leaders in the movement and the people of South Sudan, to support the full implementation of the peace agreement stressing the importance of implementing the security arrangements and transitional justice in the country.
Gen. Gatwech was appointed Chief of Staff of the SPLA-IO in 2014, but he declined to go to Juba unless the security arrangements are fully implemented.
Last June, Gen. Gatwech was relieved from his position and appointed by President Salva Kiir as a peace advisor for the presidency, an offer he turned down saying he was not consulted and it was an attempt to lure him to Juba.
Listen to Chol Deng interview