New clashes in Bieh State as gov't and rebels trade accusations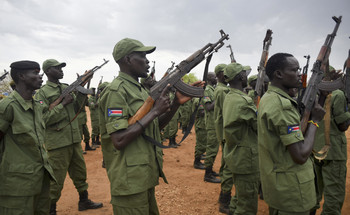 Photo:South Sudanese rebel soldiers raise their weapons at a military camp in the capital Juba, South Sudan, April 7, 2016. (AP)
Government officials in Bieh State say opposition forces allied to rebel leader Riek Machar attacked their forces in Pading County of Bieh state, a claim the rebels refute.
Bieh State Information minister Peter Nin Tut told Radio Tamazuj that the attack by rebels happened at 6 am this morning.
"The rebels attacked government forces in Guer Payam, Pading County in the morning. Three of our soldiers were killed and 4 were wounded. The rebels were repulsed," he said.
According to Nin, the people of Guer have been displaced and scattered across the county.
For his part, rebel-appointed Bieh state Governor Koang Rambang told Radio Tamazuj that the government has no presence in Guer and clashes occurred in different locations.
"The government attacked us in Pieri and Mootot in the morning till midday. We repulsed them. The government has no presence in Guer, they are in Yuai and Waat only," he said.
"This is a violation of the cessation of hostilities yet we are waiting for the talks in Addis for peace and they keep attacking us. Now every day we are on defensive. If they want to fight we are now ready," Rambang added.