MAGENIS/JUBA -
8 Oct 2021
Breakaway SPLA-IO faction accused of planning attacks in Upper Nile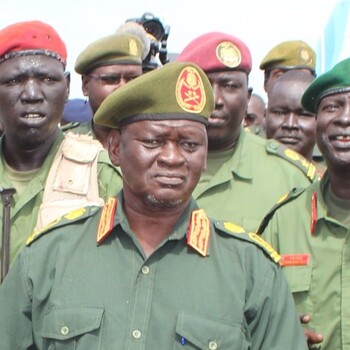 The Sudan People's Liberation Army in Opposition (SPLA-IO) under First Vice President Riek Machar says its breakaway faction, popularly known as the Ki Gwang Declaration is planning to carry out attacks on its positions in Upper Nile State.
This comes barely a day after the breakaway faction under Gen. Simon Gatwech Dual accused Machar's forces of killing its two soldiers during a raid in the Magenis area on Wednesday.
Speaking to Radio Tamazuj on Thursday evening, Col. Lam Paul Gabriel, Machar's military spokesperson, denied his group's involvement in the latest Magenis incident, accusing the breakaway faction of planning to attack them.
"We have been on the outskirts of Magenis in a place called Khorjala. There was no attack in Magenis. What we know is that the Kit Gwang forces have been reorganizing and reinforcing in Magenis town to attack us," he said.
Responding to Col. Lam's accusation, Brigadier Gatjiath, said the ongoing military reorganization is aimed at boosting security in Magenis town.
"Two days ago, two of our officers were killed within the town. So, can we not reorganized to protect ourselves?" he asked.
Brigadier Gatjiath while reiterating that they are committed to peace, warned of clashes with Machar's forces over alleged military aggression.
"We are for peace. Since August 7, we have been attacked seven times. We did not move out from our defensive positions. But honestly, anytime from now, we will fight these people (Machar faction) because they are not for peace with us," he said.
The rival forces have clashed severally in the Magenis area of Upper Nile State since August when Gatwech announced Machar's ouster.