Bor town residents say security situation improved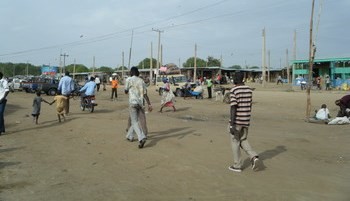 Residents of Bor town in South Sudan's Jonglei State said the security situation within the town has greatly improved after organized forces increased joint patrols in the area.
Several local residents told Radio Tamazuj on Wednesday that since the end of last year, cases of burglaries especially at night have greatly reduced.
They appreciated efforts by the police and other security organs in the states for beefing up security saying they are now able to run their day to day lives normally.
For his part, Bor Town Police Inspector Ajang John said the crime rates reduced after a crackdown on gang members.
"Those gangs, we dealt with them, and they dispersed and some of them we don't know where they are. We arrested two leaders, the one of West Coast and Ganyja Talent, and we have another man with us and then the one who wounded somebody who is now in Juba under treatment," he said.
John said most of the criminals were caught by the army because they were soldiers, adding that they will open court cases against the gang members.