Bor police impound 60 motorbikes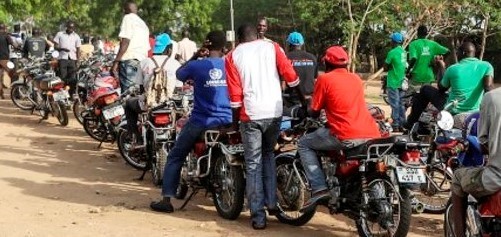 Traffic police in Bor town, Jonglei State, have impounded more than 60 motorcycles in an ongoing crackdown on illegal riders which started on Monday.
Brigadier Ajak Kamic, the state traffic police director, told Radio Tamazuj Wednesday that the crackdown targets those violating road safety rules and that it will continue until the safety of Bor residents is assured.
"Traffic accidents involving motorcycle riders have been on the rise since the rehabilitation of our roads because you find children riding unlicensed motorcycles are on the road. They over speed and violate traffic rules and sometimes they race for money on the roads," Brig. Ajak explained.
He added, "So, on Monday we launched an operation to crack down on all the illegal motorcycles. So far, we have impounded 60 of them."
He urged the motorbike operators to cooperate, warning that those found riding illegally will be arrested and have their bikes impounded.
Brig. Ajak said the move is aimed at controlling rising cases of road accidents in the state capital.
John Bior, a Bor resident, welcomed the crackdown, saying it will help reduce traffic accidents.
"The good part of it is that road accidents will be reduced but it is also bad because the fee required for a license is 40, 000 SSP," Bior said. "It is not easy to get that money. When you impound somebody's bike, where will they get money? Some are breadwinners. People should have been given enough time."
For his part, Samuel Atuel, motorbike taxi rider and a member of the local bodaboda association in Bor, confirmed that 60 motorbikes have been impounded since Monday and appealed for more time to meet the licensing requirements.
Earlier this month the Bor police promised to crack down on all motorbikes that did not meet license and road-worthy requirements as traffic accidents surged.