Bor hospital receives donation from Duk community in diaspora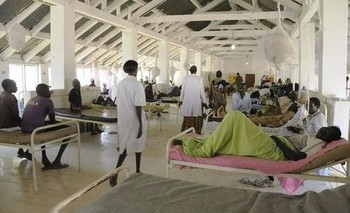 Bor hospital has received a donation of 1. 250 liters of diesel and 80, 000 SSP from Nyarweng Community in the diaspora through John Dau Foundation, a non-profit organization operating in greater Duk County in Jonglei State.
Speaking to reporters at the premises of the hospital on Thursday, Dr. Angok Gordon Kuol, minister of health in Jonglei State, appreciated the community of Duk for the support, adding the money will be used to motivate staff and buy reagents.
Minister Gordon pointed out that the donated fuel will be used to operate the generator.
Abraham Gai, director of Bor hospital and the only remaining doctor at the facility, said lack of medical staff had been hampering their work.
He further revealed that there were 15 medical doctors in 2013 but most of them left due to economic constraints.
Philip Aguer, the governor of Jonglei, welcomed the response by Duk community in the diaspora. Governor Aguer used the event to call for support from the international community and South Sudanese communities.
At least four doctors and over sixty nurses left Bor Hospital since June this year due to low salaries.