Bombing in 'Mile 14' displaced two thousand: chief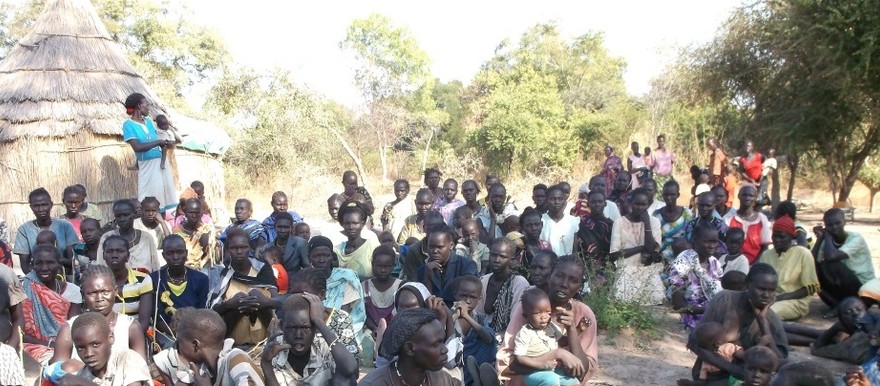 The bombing last week by the Sudanese air force on the 'Mile 14' border area caused the displacement of more than two thousand civilians, according to a local chief.
The aerial attack at Kiir Adem on Tuesday last week displaced 2,050 civilians to Malek Meer and others to different parts of Northern Bahr el Ghazal, said Sultan Dut Deng Deng.
The sultan told Radio Tamazuj in Gok Machar that the bombardment carried out by the Khartoum government targeted civilians for three days killing 6 and injuring 20 people.
Sultan Dut said that he asked the UN agencies and government authorities to provide the displaced people with food, medicines and to better accommodation.
Governor Paul Malong last Saturday visited the place where the bombs were dropped and offered condolences to the families of the victims.
The governor of Northern Bahr el Ghazal addressing citizens in Gok Machar told them to be patient because the state and national government are aware of the issue, but he did not specifically promise any support to the displaced people.
On the same day, thousands of youth in Aweil North county demonstrated condemning the bombardment. The demonstration did not last long, according to a Radio Tamazuj reporter, but ended at the UNMISS compound in Gok Machar where the protesters delivered a message that they want passed to the UN Security Council.
A UN security officer at the base, Alan Douglas, received the message and promised the demonstrators to pass it up to his headquarters.
The Sudanese army spokesman has denied that the attacks were in South Sudanese territory saying that the bombings targeted the Sudan Revolutionary Front.
The 'Mile 14' area where the bombing took place is south of the Bahr el Arab/Kiir river, a seasonal grazing area for the Rizeigat nomads of Darfur. 'Mile 14' takes its name from a 1924 decision by colonial officials that the Rizeigat Arab dar (homeland) should extend 14 miles south of the river.
Photo by Radio Tamazuj: Refugees from the bombing fled south to Aweil North County, Northern Bahr el Ghazal.