ADDIS ABABA -
27 Jul 2012
Blue Nile commander: no aid talks, no political talks with Khartoum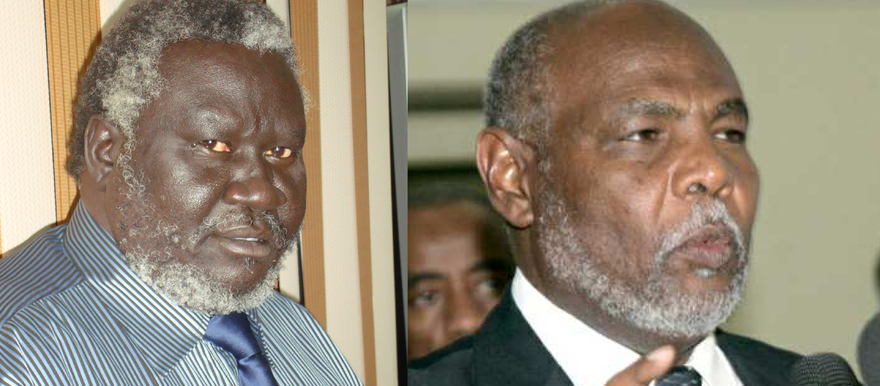 Malik Agar, chairman of the SPLM-North and leader of the rebel command in Blue Nile State, denied launching negotiations with Khartoum on political matters and reiterated the movement's commitment not to enter into negotiations with Khartoum separately from the rest of the Sudan Revolutionary Front (SRF).
By ruling out a bilateral deal with Khartoum, the Blue Nile leader affirmed the survival of the SRF as an umbrella organization of SPLM-North together with the hard-line Darfur factions and implied that the insurgents would not necessarily concede political ground despite near-famine conditions in parts of the war zone.
Agar and his top lieutenants are in Addis Ababa for consultations with international mediators as Khartoum and Juba hold separate talks on oil and security issues. The rebels are at odds with Khartoum over whether aid access in rebel-held areas should be subject to a political agreement or should be accepted separately in isolation of political negotiations.
In an interview with Radio Tamazuj today, the rebel chief said that SPLM-North's negotiation with Khartoum on political and humanitarian issues had not yet begun. He said that the two sides sat together on Monday but they agreed on nothing. His account echoes a written statement issued yesterday by his secretary-general, Yasser Arman: "In the last two days, since the humanitarian track started, the Khartoum delegation refused to sit with the SPLM-N humanitarian delegation."
But Agar's remarks contradict Mutrif Sadig, spokesman of the Sudanese delegation, who said yesterday that the two sides had held two days of talks on humanitarian issues and were set to open dialogue on political issues. At a press conference covered by Al Ashrouq television and other news agencies, Sadig explained that the negotiations are governed by the United Nations Security Council Resolution 2046, which instructs Khartoum and SPLM-N to "reach a negotiated settlement on the basis of the 28 June 2011 Framework Agreement on… Political and Security Arrangements in Blue Nile and Southern Kordofan States" and urges Sudan to allow foreign aid groups to operate in South Kordofan and Blue Nile.
Formally, Sudan has already accepted the so-called 'Tripartite Proposal' put forward by the African Union, Arab League and United Nations on the delivery of humanitarian assistance in Blue Nile and South Kordofan States. The government's consent, however, came with 'operational conditions' to prevent aid groups form working behind rebel lines, according to the UN.
"Khartoum is buying time trying to politicize the humanitarian track. Food for political gains," Arman stated yesterday.
SPLM was part of the Government of National Unity from 2005-2011. But after the secession of the South, the party was ejected from the government and eventually outlawed. In Blue Nile, the party suffered heavy losses of men and materiel in September 2011 during a government crackdown in the state capital Damazin, which resulted in the forcible removal of Malik Agar form the governorship and the appointment a military ruler.
Malik Agar today also demanded that Khartoum release SPLM-North prisoners and return confiscated property. Khartoum in recent weeks has allowed lawyers to visited detainees but has not released any of them. According to rare testimony from an escaped prisoner, executions and torture were common in the Kadugli prison over the last year.
In a similar report, Sudan Tribune writes that humanitarian talks are stalled because the Government of Sudan insists that a political agreement should be sealed before signing a humanitarian deal.
Related content: 'Slow and uneven' progress as Bashir and Kiir meet in Addis (15 July 2012)
Photo: SPLM-N Chairman Malik Agar, left, and Government of Sudan Negotiation Team Spokesman Mutrif Sadig.