Blocking of Radio Tamazuj website by government still drawing criticism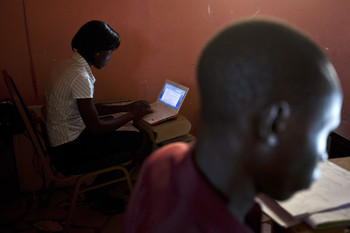 File photo: Two reporters at "The Citizen" newspaper work at their desks in Juba, South Sudan, 18 June 2012/REUTERS
South Sudan government's decision to block access to the website of the daily news service Radio Tamazuj is still drawing criticism from entrepreneurs, aid workers and other citizens who crave trustworthy information, saying the blocking was an affront to the freedom of expression in the world's youngest nation.
Last week, South Sudanese government said it blocked websites of at least four independent media outlets over claims "they have been disseminating subversive material," raising concerns over media restrictions amid insecurity in the country.
"I am saddened by the move of the government denying aid workers and its citizens from the freedom of accessing information. It is not merely a denial but a breach of the human rights of the citizens of South Sudan," said a humanitarian worker in Yambio.
The aid worker, who preferred anonymity, said it is absurd to cut off access to Radio Tamazuj website which he said is the only credible source of news in South Sudan.
"We the humanitarian actors need to be fed with news about how our citizens are going about their daily life in the face of this crisis. If we are being denied access to information, meaning there's something fishy going around that citizens are being barred from accessing information," he said.
Marin de Bie, a female entrepreneur, said on her Twitter account that she could not access Radio Tamazuj website. "I cannot access the website, what can I do?" she asked.
"I condemn the decision taken by our Minister of Information Michael Makuei to block Radio Tamazuj website, please my friends never give up, BIG UP to Radio Tamazuj, I accept your work," Modir Ezbon, a South Sudanese reader posted on his Twitter account.
Another South Sudanese citizen said in a Facebook post that the blocking of Radio Tamazuj website in the country will create a vacuum.
Alakai Aggrey Richard, an agronomist in Yei River state, complained that he could not access the website of the news service Radio Tamazuj. "Could you send me the daily news of Radio Tamazuj?" he asked.
Last week, many aid workers operating in the northern part of the country expressed security concerns over government's decision to block access to the website of the daily news service Radio Tamazuj.