Bishop urges humanitarian assistance for IDPs in Central Equatoria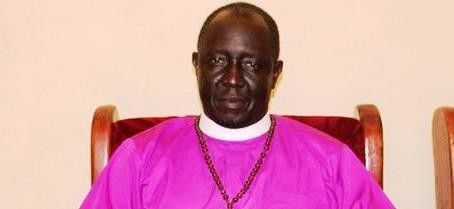 Photo: Archbishop Paul Yugusuk
Paul Yugusuk, the Archbishop of Central Equatoria Internal Province of the Episcopal Church of South Sudan, has appealed for humanitarian assistance for thousands of internally displaced persons (IDPs) living in Mukaya and Lainya areas in Central Equatoria State.
Speaking to Radio Tamazuj on Wednesday last week, Yugusuk said there are 16,000 IDPs in Lainya and about 10,000 in Mukaya.
He said the IDPs, mostly women, children and the elderly are currently living under trees and survive on mangoes.
The Archbishop further said there has been no immediate response from humanitarian partners ever since the massive displacements of the IDPs between April and May 2020, despite appeals for support in these two areas.
"We have massive displacements of communities. In Lainya alone, there are 16,000 IDPs and 10,000 others in Mukaya and since it is a rainy season, it's hard for them to survive. We have been requesting for assistance from humanitarian agencies, but there is nothing coming. People are suffering in Lainya," Yugusuk explained.
The religious leader also condemned the ongoing violations of the cessation of hostilities agreement by either the National Salvation Front (NAS), the opposition SPLA-IO or South Sudan army (SSPDF).
He urged the warring parties to respect the cessation of hostilities agreement and honour the agreement they signed in Rome, Italy.