Bishop hopes for agreement in next South Sudan peace talks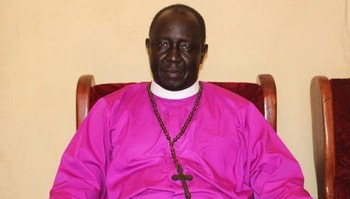 File photo: Paul Yugusuk
An Episcopal cleric said he hopes "a final peace deal" will be signed in the next round of South Sudan peace talks in Ethiopia's capital where talks will be taking place between the warring parties in March.
The East African regional bloc IGAD last week suspended South Sudan peace talks for an undetermined time to give warring side ample time to reach conclusive peace deal.
Speaking to Radio Tamazuj on Tuesday, Paul Yugusuk, Anglican Archbishop of Central Equatoria Internal Province said the second round of talks had provided the platform for healthy discussions, adding the talks might go smoothly in the next session.
Yugusuk further said negotiations between the South Sudan parties started well and most of the key issues have already been agreed. He pointed out that the religious leaders will intervene in order to bring the divergent viewpoints closer before the next round of talks starts.
The senior church leader confirmed that there was more progress in Addis Ababa." The key issues have been agreed upon by the parties except the declaration of principles. So when the parties resume next time, they will start discussing the disagreed points," he said.
He pointed out that the East African regional bloc IGAD had asked South Sudan church leaders to help bring the divergent points closer. "We will be holding meetings with the warring parties on issues related to peace," he said.
"Next week, we will start our work before the next round of talks kicks off. The Council of Churches found that the stakeholders demand our intervention and the IGAD special envoy also welcomed the initiative," he added.
Yugusuk said both sides focused on personal differences during the second round of talks but he expressed hope that things might change in the third round of peace talks.
He urged the mediation team to build trust between the warring parties before any discussions on the revitalization process. "I think it will be very difficult for the parties to make compromises, but our role will be critical and we will look into it," he said.
The Episcopal bishop noted that the talks on security arrangements will be difficult especially from the opposition side." The parties are hesitant because of what happened previously in Juba, so security arrangements especially for the opposition needs guarantees," he said.
He urged the people of South Sudan to be patient despite their suffering as the warring parties negotiate to make peace in the country. "We also urge our leaders to put the interest of the people of South Sudan first," he said.