JUBA/NAIROBI -
27 Apr 2021
Bishop-elect of Rumbek undergoing treatment in Nairobi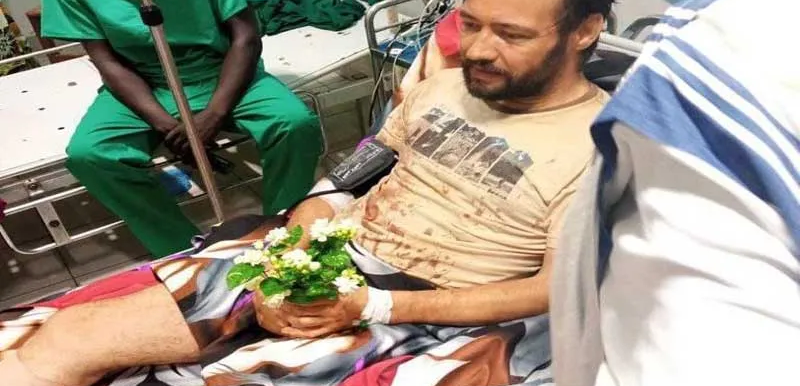 The Bishop-elect of South Sudan's Rumbek Diocese, Msgr. Christian Carlassare airlifted to Kenya's capital, Nairobi, through the services of the African Medical and Research Foundation (AMREF) for specialized treatment. [Photo: aciafrica]
The Catholic Bishop-elect of Rumbek Diocese, Fr. Christian Carlassare, who was shot on Sunday night was flown to Nairobi, Kenya, on Monday for further medical attention, officials have confirmed.
In a telephone interview with Radio Tamazuj Tuesday, Catholic Archbishop Stephen Ameyu confirmed that Fr. Carlassare was flown to Nairobi for further treatment.
"Yesterday they flew him to Nairobi and I think immediately he was taken to Nairobi Hospital and went immediately for operation. They had successfully operated him and at around midnight they sent to us a report that he was operated successfully and he is in a stable condition and those wounds are no longer life-threatening," Archbishop Ameyu said.
Speaking from his hospital bed in the Kenyan capital, Fr. Carlassare asked people to pray for him and Rumbek.
"You pray for me and we all pray for Rumbek that God may have mercy on us and the people of Rumbek. That we may receive his mercy and his graces. We also forgive those that commit these kinds of actions," the Bishop-elect said. "We do not carry any grudge, we know that God is greater than everything and he can convert our heart and bring bad things into good. So let us be united in prayer, let us be good Christians and trust the Lord so that the Lord may do something good for our community."
Lakes State acting Minister of Information, William Kocji Kerjok, confirmed that the bishop was flown to Juba and proceeded to Nairobi for specialized medical attention.
"The government must make sure those who are involved in this must be brought to book," Minister Kocji stressed.
Authorities in Rumbek say 24 people have so far been arrested in connection to the shooting.
"So far the government has taken the initiative of arresting those whom we think are suspects, those who are members in the compound, they have been arrested and more investigation is going on until more arrests are done to make sure those who are behind the shooting are brought to book," Minister Kocji added.
Bishop-elect, Fr. Christian Carlassare was slated to be ordained as the Catholic Bishop of Rumbek Diocese on May 23. It is not yet clear what will happen next regarding the forthcoming installation.
The Italian Comboni Missionary was appointed Bishop-elect for Rumbek Diocese on 8 March and traveled to Rumbek Diocese on 15 April after days of spiritual retreat in South Sudan's capital, Juba.
South Sudan's Human Right Commission yesterday condemned the incident saying, "The commission hereby condemns this barbaric act in the strongest terms possible and urges both the state and national governments to institute an investigation committee to conduct a thorough investigation to hold the culprits accountable."
Sources there say the faithful in Rumbek yesterday (Monday) demonstrated against the incident and called upon the Vatican to dismiss Fr. John Mathiang Machol who works as the Diocesan coordinator in the Diocese of Rumbek.
Rumbek Diocese has been without a bishop for the last 10 years since the death of Bishop Caesar Mazzolari in 2011. The diocese is also known for acrimonious internal church politics and several foreign clergymen have previously been attacked.
In 2018, a Kenyan Jesuit priest working in the Diocese of Rumbek was killed by unknown gunmen.