Beyond prestige: FAO livestock show in Kuajok promotes commercialization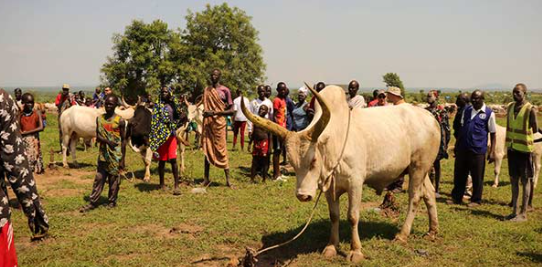 A prize bull at an earlier livestock show. FAO photo
After suspension due to the Covid-19 pandemic, the Food and Agriculture Organization of the United Nations (FAO) has resumed livestock shows activities in South Sudan and organized a livestock show in Kuajok, Warrap State on 17 and 18 November.
With funding from the Kingdom of Norway and the South Sudan Reconciliation, Stabilization and Resilience Trust Fund (RSRTF), FAO in partnership with the Ministry of Livestock and Fisheries organized a livestock show and agricultural exhibition in Kuajok, Warrap State on 17 and 18 November. The show brought together Warrap State cattle, goat, and sheep owners as well as farmer groups who displayed their produce.
According to FAO, government officials, representatives of UN agencies, non-governmental organizations (NGOs), and donor representatives including Canada, China, Norway, Switzerland, and USAID witnessed livestock keepers competing based on the best productive traits of their animals.
"FAO introduced livestock shows in South Sudan for the first time in 2019 in Rumbek as a means of promoting peaceful interaction between communities while encouraging commercialization of livestock by emphasizing quality over quantity," An FAO statement read. "Subsequent shows were held in Wau in 2019 and Torit in 2020. Like the previous events, the FAO Livestock show in Kuajok contributed to boosting the capacity and diversity of the livelihoods of participants, ultimately increasing the resilience of South Sudanese communities."
Livestock keepers gathered at Kuajok Theater with 789 cattle, 135 sheep, and 217 goats throughout the two-day event. Judges trained by FAO were brought from other states to evaluate the animals not only based on characteristics such as body weight or milk production, but also aesthetic aspects. The animals with the best traits were awarded prizes ranging from 8,200 South Sudanese Pounds (SSP), around 20 USD, to 32, 800 SSP, around 80 USD.
Animals are a key economic asset and a central socio-cultural component for the majority of the people of South Sudan with an estimated 12 million cattle, 12.1 million sheep, and 12.4 million goats, making the country one of the world leaders in animal wealth per capita.
However, it is estimated that this rich resource contributes only approximately 3 percent of the gross domestic product (GDP) due to inadequate commercialization and marketing.
"Through livestock shows, FAO is creating awareness among livestock keepers of the economic value of their animals, thereby encouraging better animal husbandry practices. Furthermore, emphasis on keeping livestock for commercial purposes rather than for prestige and traditional marriages will discourage cattle raiding and livestock-related violence," The FAO said.
During the two-day event in Kuajok, FAO's partner agencies and organizations set up booths to present their work and activities in support of communities of Warrap state. Groups of farmers displayed their produce to attract potential buyers and raise awareness on the availability of their products in the market.