Bentiu Al-Merrikh signs new coach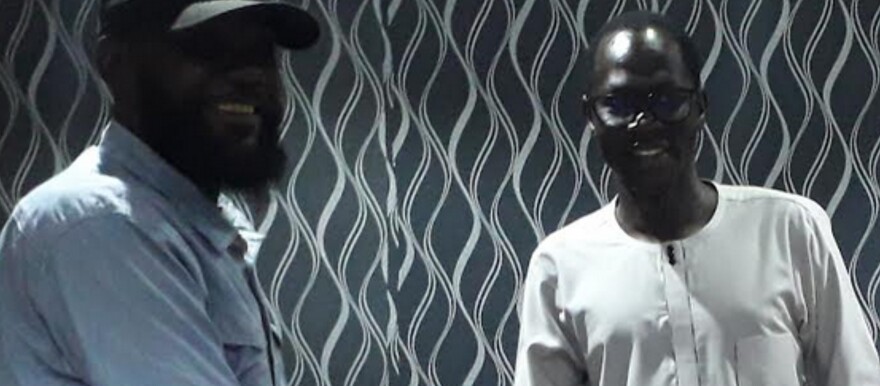 Malual Tap, the President of Al-Merrikh Bentiu (L) welcomes new head coach Johnny Richard (R) after inking the contract. (Photo: Radio Tamazuj)
Unity State's Al-Merrikh Football Club on Saturday officially unveiled Jonny Richard, affectionately known as "Kundu," as their new head coach.
Jonny Richard is set to succeed Ramzy Sebit, the former head coach who steered the team to victory in the prestigious Bentiu Local Football Association's South Sudan Cup in 2022.
During a well-attended press conference held at the luxurious Dembesh Hotel in Juba, the club unveiled the signing of a one-year contract with Jonny Richard as head coach and Richard Justin as his assistant. The contract also carries the possibility of extension, signifying the club's commitment to their new leadership duo.
Malual Tap, the President of Al-Merrikh Bentiu, expressed his enthusiasm for the signing of the club's new coaching staff and said they are very talented.
"We have secured the services of one of the most talented coaches in our country," he said. "We are thrilled and eager to finally have someone we believe can transform Al-Merrikh Bentiu into a team capable of competing not only locally but also on a regional and international stage."
Jonny Richard, the new head coach, graciously accepted the role and said he his honored.
"People often have misconceptions about the safety of Bentiu but we have embraced this new opportunity to promote a positive image of Bentiu," he said.
Al-Merrikh FC Bentiu has already embarked on its journey to defend its title in the Bentiu Local Football Association's South Sudan Cup 2022. They made a resounding start to their campaign by defeating Unity Stars with an impressive 4-0 scoreline, securing their place in the tournament's third round.
The team's fans are undoubtedly eager to witness the new coaching staff's impact on their future performances.