'Be accountable to the people- Bishop Santo Laku tells politicians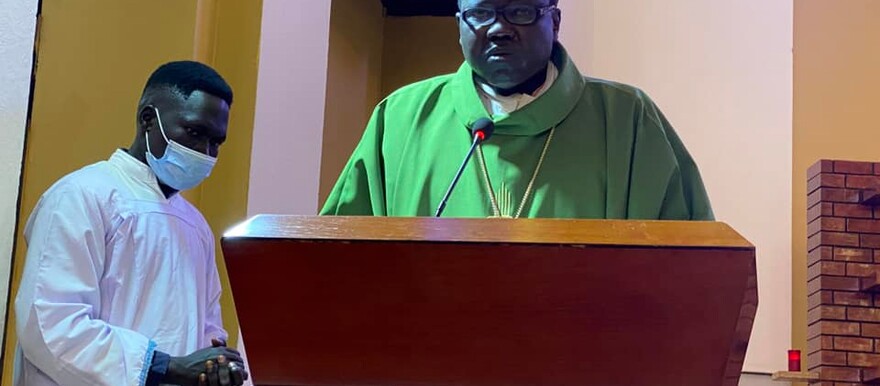 The Auxiliary Bishop of the Catholic Archdiocese of Juba, Santo Laku Pio during mass on 19 Sept. 2022. [Photo: Radio Tamazuj]
The Auxiliary Bishop of the Catholic Archdiocese of Juba, Santo Laku Pio, has called on South Sudan's political leaders to be accountable to the people and maintain justice across the nation.
The clergyman made the remarks while delivering a sermon at the Saint Theresa's Cathedral Parish in Juba on Sunday.
Bishop Laku said most leaders in South Sudan are Christians but that most of them are involved in dubious activities at the expense of the South Sudanese people.
"Fellow countrymen and women and sons and daughters of God, we do not deserve the poverty that we go through today in our country," he said. "Those with economic power, for example, are Christian leaders. 
Fortunately, most of the leaders in this country are Christians but what are they doing with the Christianity they have?"
The Auxiliary Bishop said most of the political leaders in the country are Christians and that some of them even went to seminary and he challenged them to serve the people.
"We are called upon to be just and to be honest. As we pray, know that one day the Lord will hold every one of us accountable. We cannot be immune to that," he said. "Let us move towards actions that free us from making others suffer. Somebody should feel that with his actions, another is suffering."
"I should ask myself that with my actions, somebody is becoming poor, does not have food, and does not have a house," he added.
Bishop Laku also warned the political leaders to stop mismanaging and appropriating South Sudan's resources for their selfish interests but rather use them for the good of the entirety of the country's people.
"Let us stop playing with the resources that God has given to us as a country because these very resources like oil belong to all of us and the coming generations," he urged.