KHARTOUM/ADDIS ABABA -
29 May 2013
Bashir threatens to curtail oil flow alleging South Sudan 'rebel support'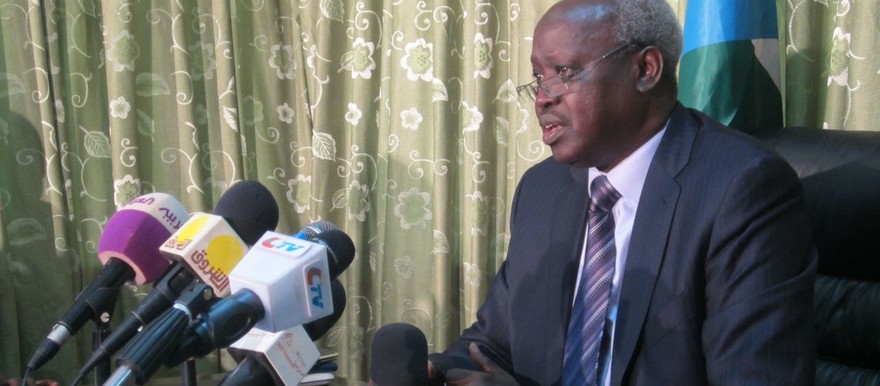 In Khartoum on Monday, Sudanese president Omar Al Bashir reiterated his threat to shut down and block South Sudan's oil from flowing through Sudan's oil pipeline facilities "if the South Sudan government continued harbouring and logistically supporting the SRF rebels".
Bashir also vowed to neither recognize nor negotiate with "the insurgency", referring to the SPLM-N, Justice and Equality Movement (JEM) and Sudan Liberation Movement (SLM) rebel groups.
Addressing a gathering in Khartoum on Monday to celebrate the 'recapture' of Abu Karshola from rebel forces, Bashir praised the SAF for "carrying out their duty of protecting the nation and Country's sovereignty".
Conversely, the Sudanese Revolutionary Front (SRF) disputes that the town was 'recaptured' saying that their withdrawal was tactical and considered 'to protect the civilian population'. Reports are currently reaching Radio Tamazuj that Sudanese security forces have arrested several civilians in Abu Karshola on suspicion of 'collaboration' with the rebels.
Bashir stressed the government's determination "to liberate every inch of the Country's land from the traitors and terrorists" and vowed "reprisal to any country that materially supports Sudan's rebel coalition".
In this vein, Bashir pledged to dishonour any agreement with Juba. "South Sudan's non-compliance with any part of the signed agreements means cancellation of the all signed agreements," he said. "The government will close its pipelines in the event of South Sudan supporting the clients of mercenaries in Darfur, South Kordofan and Blue Nile", Bashir said.
The South Sudanese Minister of Foreign Affairs Nhial Deng Nhial has responded, saying that if Sudan has changed its mind and wishes to stop South Sudan's crude oil from passing through its territory to reach the international market, it should give the Republic of South Sudan a period of sixty days' notice.
Nhial said this would allow for an orderly shutdown that will ensure that there is no damage the oil facilities of South Sudan.
According to Nhial, Bashir's threats, which were made in the presence of the US Secretary of State John Kerry at a meeting in Addis Ababa last week, characterise Khartoum as a "technical impediment to the smooth flow of oil".
South Sudan President Salva Kiir categorically rejected claims that his country is harbouring and providing support to armed groups opposing the Khartoum regime: "South Sudan depends on its oil revenues, and it therefore cannot involve its self in internal conflicts waged against the Republic of Sudan".
"South Sudan is struggling with its own insurgencies which are very costly in terms of human lives and expenditure on material," Kiir said. "If we had the resources, they would be used in cementing our own territorial integrity and protecting the civilian lives in our country".
However, South Sudan responded willingly to John Kerry's appeal for support to initiate the peace process in Sudan with the rebels. Kiir stated that if there was a political process involving groups integral to the South Sudanese struggle, such as the SPLM-N, he would be ready to provide support in promoting peace efforts and dialogue between Khartoum and the rebel groups.
The Minister of Foreign Affairs concluded out that it is not in the interests of South Sudan to strain their relationship with Sudan. "All that South Sudan can do is to continue engaging Bashir in dialogue because the objective is to achieve peace."
Photo: Nhial Deng Nhial, South Sudanese Minister of Foreign Affairs