Bashir's visit to Juba tomorrow 'a sign of confidence'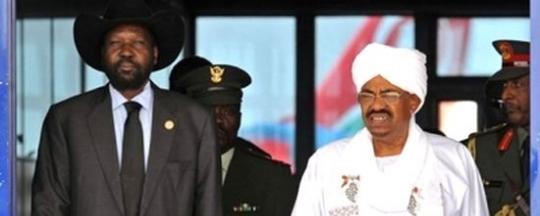 The Sudanese President, Omar al-Bashir, is to visit Juba tomorrow in a trip designed to speed up the process of implementing cooperative agreements and normalising relations. It is also considered as an indicator of enhanced confidence between the states, claimed South Sudan's ambassador to Sudan, Mayen Dut.
In a press statement on Tuesday from Khartoum, the ambassador claimed that Bashir and his South Sudanese counterpart, Salva Kiir, will review outstanding issues from last month's implementation matrix and will make every effort to speed up the normalisation of bi-lateral relations.
Dut claimed that there is the political will in South Sudan required to bring about sustainable security.
Juba's spokesperson, Marial Benjamin, called upon South Sudanese citizens to give al-Bashir a warm reception.
One of the main topics up for discussion between the leaders will be Abyei, confirmed Benjamin, as they have been empowered by the African Union High Implementation Panel to try to form some recommendations on future action regarding Abyei which may be submitted to the body.
However, they will also discuss the presence of citizens in one another's states, suspected 'proxy' rebel groups, cross-border trade and the issue of civil service pensions earned prior to independence.
South Sudan and their northern neighboursigned a cooperation agreement last year in Addis Ababa, followed by an implementation matrix last month after neither side complied with the requirement to demilitarise the contested border region.
The shared border has been largely closed since oil production ended with tight restrictions on the movement of people, livestock traveling for season grazing and cross-border trade.
Under the matrix, border controls have relaxed and South Sudan will sell its first oil shipment in May, bringing much-needed income to both countries.
File photo: Salva Kiir and Omar al-Bashir