Barnaba Marial appointed special envoy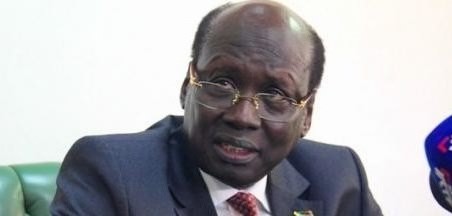 File photo: Barnaba Marial Benjamin (Radio Tamazuj)
South Sudan President Salva Kiir on Wednesday appointed former foreign minister Barnaba Marial Benjamin as presidential adviser and special envoy.
The president's decision comes two days after he named Mrs. Awut Deng Achuil as minister of foreign affairs and international cooperation, replacing Nhial Deng Nhial.
Marial was removed from his position as minister of foreign affairs in March 2016, days after a document sent to the United Nations in Geneva, in which prominent Abyei-born academic Luka Biong was referred to as a Sudanese national.
A graduate from London School of Hygiene and Tropical Medicine, Marial previously served as minister for regional cooperation, commerce and industry and information.
He also has a short stint as national minister of international cooperation in the Khartoum-based Government of National Unity from 2005 and 2006.
During the liberation struggle, Marial held various positions in the SPLM, including serving as representative to southern African countries. He also worked as secretary of international relations representing SPLM in the executive of National Democratic Alliance (NDA).
Marial, who is a Member of Parliament, hails from greater Uror County.