Bakosoro urges unity in COVID-19 fight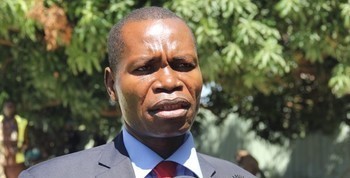 File photo: Minister of Public Service Joseph Bakosoro
South Sudan's Minister of Public Service, Joseph Bangasi Bakosoro has urged citizens to collectively fight against the spread of COVID-19.
Speaking to Radio Tamazuj on Thursday, Minister Bakosoro said South Sudanese should put aside their differences, end communal violence and work together to battle the disease.
He appealed to the public to adhere to guidelines set out by the Ministry of Health so as to stem the spread of coronavirus.
"Most of our people do not take this disease seriously. They still think it is a mockery from the government, but coronavirus is real. We have already lost people and several others are infected," said Bakosoro.
A number of senior government officials, including three of the country's vice presidents have tested positive for COVID-19.
Bakosoro urged South Sudanese to take responsibility and get tested for the novel coronavirus, affirming his readiness to go for testing.
The minister admitted that the government has been unable to pay civil servants for the last five months owing to "financial difficulties facing the country."
"We know everyone is suffering and even as ministers, we have not been paid since our appointment up to today. We have only been receiving the budget for office services," Bakosoro explained.
According to the national minister, the pandemic has worsened the country's economic situation.
"Since the beginning, we have not paid much attention to the collection of non-oil revenues. We have a lot of corruption in the non-oil revenue sector. When the money is collected, it goes into the pockets of individual officials," he explained.
On Wednesday, South Sudan reported 188 new coronavirus cases taking its total to 994 confirmed cases with 10 fatalities and six recoveries.
Health experts have raised concerns that the poor healthcare system in South Sudan could cause havoc.