Bakosoro's rebel group denies links to alleged apprehended UN car with guns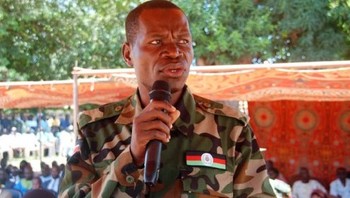 File photo: Former Western Equatoria Governor Bangasi Joseph Bakosoro addressing the 29th SPLA anniversary celebrations in Yambio. [Photo: Joseph Nashion]
Rebels allied to South Sudan's National Movement for Change (SSNMC) have denied and condemned government claims that it has apprehended a UN vehicle loaded with guns, ammunitions and military equipment with links to their leader Bangasi Joseph Bakosoro.
The former Western Equatoria State Governor Joseph Bagasi Bakosoro is currently leading a rebel group calling itself South Sudan's National Movement for Change (NMC).
On Friday, the rebel group said in a statement that the state-owned television reported that national security officials had apprehended a UN car loaded with guns, ammunitions and military equipment.
"SSCB stated that the lady who was in charge of the car confessed the items belong to security officer Doming Ruiz who was connected to Joseph Bakosoro, who is currently in Uganda mobilizing for war in Western Equatoria" according to the statement.
"SSNMC would like to reach out to our supporters, well-wishers and the entire people of South Sudan that we, as an organization, or our Chairman Bangasi Joseph Bakosoro, as an individual, have/has no knowledge about and no involvement in the said apprehension matter if at all the matter holds ground and can be substantiated any way," the statement reads in part.
The South Sudanese rebel group said the allegation is unfounded, describing it as a shoddy and despicable propaganda by a government that has failed all milestones of a moral and trustworthy leadership.
The group claimed that the allegation made by the government in Juba was a ploy to justify their incessant violation and abrogation of the 21st December 2017 cessation of hostilities agreement.
Bakosoro's rebel movement reiterated its commitment to r peace and search for durable solutions to the crisis in the world's youngest country. "SSNMC would like to appeal to the UN to investigate this matter and publish its findings to the people of South Sudan," it further said.