Bakosoro demands ceasefire before peace revitalization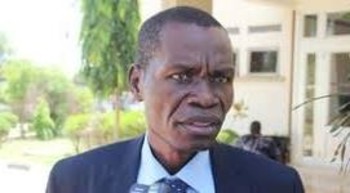 File photo: Joseph Bangasi Bakosoro
Joseph Bangasi Bakosoro, former governor of Western Equatoria and leader of South Sudan National Movement for Change (SSNMC), has urged all warring parties to pursue and enforce an immediate ceasefire before revitalization of the 2015 peace accord.
"I met with a team from IGAD in Addis Ababa on 29 September. Our first point was that we need ceasefire immediately in the country. The ongoing war should stop so that the signed peace agreement can be revitalized," Bakosoro told Radio Tamazuj on Tuesday.
The South Sudanese politician emphasized the importance of inclusivity in the peace process in South Sudan.
Bakosoro revealed that he asked the East Africa's security and trading bloc to review all provisions related to security arrangements, govenrmeance, and accountability in the 2015 peace agreement.
He also urged the opposition leader Riek Machar and First Vice President Taban Deng to reconcile and reunify the two factions of the Sudan People's Liberation Movement-In-Opposition (SPLM-IO) before the revitalization process.
"It will be very difficult for the two factions to operate now. I want the revitalization process to find amicable solutions to this problem," he said.
The SSNMC leader pointed out that the revitalization process could address challenges facing implementation of the 2015 peace agreement.
He called on Kiir's administration to work for peace in order to bring an end to the immense suffering of the people of South Sudan.
The Inter-Governmental Authority on Development (IGAD) had released a timetable for the revitalization forum to start consultations with South Sudanese leaders before the revitalization forum kicks off.