Bakers strike; price of bread rises in Babanusa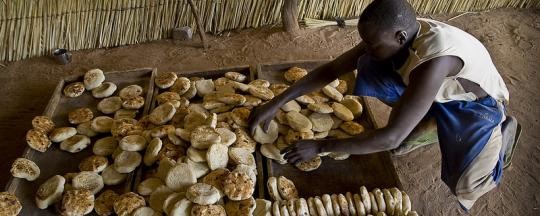 Bakers in Western Kordofan's Babanusa have gone on strike due to flour shortages in the town while the price of bread has increased to one Sudanese pound per bread roll.
A source from Babanusa told Radio Tamazuj that the head of the bakery owners' federation, Mohammed Abdel Gadir, notified the security authorities that they are going to strike due to shortages in commodities.
"The traders have gone on strike today in Babanusa due to a lack of flour in the area so we want the government to intervene and find a solution to the problem," a source admitted.
The source blamed the shortage on traders' fear of restrictions put in place by government security agencies, reportedly going as far in some casesas to confiscate trucks. Fifty were reported to have been confiscated by the anti-smuggling unit and military leadership in the region.
File photo: A baker at a Darfur refugee camp in eastern Chad, 2011 (UNHCR/F. Noy)