Bakasoro denies attempt to kidnap him from Uganda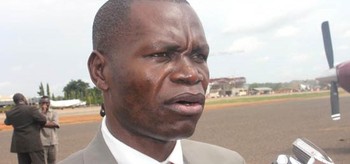 File photo: Joseph Bakasoro
The former Western Equatoria State Governor turned opposition leader Joseph Bangasi Bakasoro has denied reports that there was an attempt to abduct him from the Ugandan capital, Kampala on Wednesday afternoon.
"What happened was a routine check of vehicles by Uganda Revenue Authority. They were actually working to verify papers of vehicles, so my car was stopped and they asked for the papers, not me personally," he said.
Bakasoro, who is leading a group calling itself South Sudan National Movement for Change (SSNMC), said he feels safe in Kampala. "I am secure here. When I suspected people asking for me, I called the office of big man [President Museveni] here and they responded positively," he said.
"The good thing is that they didn't ask for me personally. They didn't ask for anybody, they asked for papers of the vehicle," he added.
But Kwaje Lasu, secretary general of the rebel movement led by Bakasoro said in a statement today that the attempt to kidnap their leader was thwarted with help of their intelligence and Ugandan security officials.
In August 2017, SPLA-IO deputy spokesman Paul Lam Gabriel said that an armed group had briefly abducted him but Ugandan police rescued him.
South Sudan's government and opposition groups signed a ceasefire in December last year in the latest attempt to end the ongoing civil war.