Baby dies, 6 injured after heavy downpour in Kuajok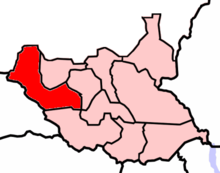 Officials in the Kuajok town of Warrap State say a three-year-old boy died and about six people were injured when their homes collapsed following a heavy downpour on Saturday.
Kuajok Municipal Council acting town Mayor Joseph Madut Deng told Radio Tamazuj those injured are receiving treatment at the Kuajok Hospital.
"The destruction is heavy, Barpuot Block Council reported that a three-year-old child has died in California as a hut fell on him with his parents who sustained serious injuries. Another person is also injured in the same Block 11 with six goats, two persons at Majak Amal Block 12, and one was injured too at Block 27 to make the total of six people with injuries as a result of huts falling on them. These people who have sustained serious injuries are hospitalized in Kuajok main hospital," he explained. "Other areas which are also affected in the town include Mayen-gumel, Warayat, Warakoon, and Kuajok North and East. People are on roads and government will convene an emergency meeting to help affected families."
Residents blame the state government for not establishing a drainage system in Kuajok town.
"My house is full of water, all my huts are full of water and everything is wet inside because the government didn't make culverts to channel water to swampy areas. The problem is not water from Duel pool, this small culvert there with aluminum-zinc was blocked, that is the reason the area is now flooded," says 36-year-old Kuei Mathiang of Block 7.
Bakhita Akuol, another resident of Block 7 appeals to the government to urgently interview as she fears more houses could collapse and cause more damage.
"We are affected by floods not only this house alone but the whole block is affected. We need the government to help drain the water so that people don't die as we have heard that falling huts claimed lives," she appealed.
Like other residents, Anguech Gai, a resident of Mayen-gumel said her houses are standing in water and called the government to materially support them with non-food items.
"The rain is seriously affecting us in all Kuajok town one of my huts collapsed and the other is in water it will fall too. We need the government to help us with plastic sheets to camp on high grounds," she said.
Daniel Deng, who lives in the town worries the rental houses he lives in will collapse if the rains continue.
"Last night we had the heavy rains and by surprise, we got all our things including books and bags in water and already spoiled by water now you can not go out or in even fence is full to the brim. We are scared if it rains again, there are high chances that our building will collapse," he said.