Ayod residents flee as oil contaminates floodwaters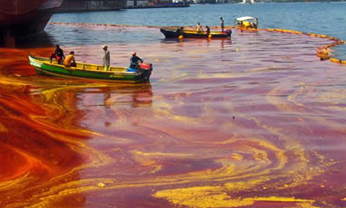 A water body contaminated by an oil spill. Internet photo
Officials in Ayod County of Jonglei state said several residents have been left homeless as they flee alleged oil contamination in parts of the county.
In November last year, a dire health situation was reported to be looming as the officials there said untapped crude oil was contaminating the north-western outskirts of Ayod town. 
Speaking to Radio Tamazuj, James Chuol Jiek, the Ayod County commissioner, appealed for government intervention, claiming about 5,000 people have been displaced as the contamination spreads. 
"Oil has spread over several areas apart from Lowiir. About 2,000 people have been displaced from Nyamathiang, 1,500 from Puryom, 1,005 from Nguerpargai, and Pulnaidueny with 1,200. Wan and Pakuem areas are also affected but they are hard to access," he said. "The majority of those affected are here with us in Ayod along the Jonglei Canal."
Chuol called on the state and national governments to dispatch expertise to the area to assess the situation. 
"The solution is for the government to send people to assess our situation because women are giving birth to babies with strange features," he said.
 
Gabriel Tot, an Ayod resident, said the situation will worsen if the government fails to intervene because they rely on surface water for consumption. 
"The entire area of the Gawar community is being affected with cases of babies with deformities. We want the government to see what is happening," he said.  
For his part, Tuong Majok, the state cabinet minister, said they are aware of the oil spill but that the state lacks the expertise to assess Ayod. 
He pointed out that the situation will normalize as the floodwaters recede.