Aweil's new finance minister sworn in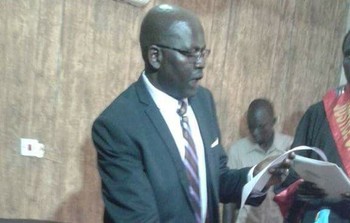 File photo: Minister Majok Wek Kuol takes oath of office in Aweil. (Radio Tamazuj)
The newly appointed minister of finance and labour in Aweil State, Majok Wek Kuol, was sworn in before the state governor earlier this week.
"It is now more than three days since I and the colleagues with whom we were appointed on the same day took oath of office and assumed our duties right away," minister Majok told Radio Tamazuj on Friday.
"We are in our offices working in our new capacities. Thanks to the governor for the trust, so we will try to help him implement the objective of the government, which is the unity and reconciliation of our people," he added.
Majok, who replaced Garang Majok Bol, was one of the new officials appointed by the new governor Yournew Wol Kuol through a gubernatorial decree.