Aweil East governor says Malong's row with govt not community affair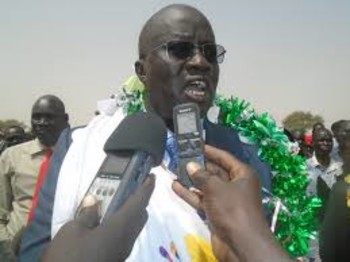 File photo: Governor Deng Deng Akuei
The governor of South Sudan's Aweil East State has recently visited Warawar, the home village of former army chief of staff, Paul Malong Awan, who fell out with the government following his removal from the position in May 2017 and subsequent placement in house arrest before being released to Kenya after mediation brokered by elders in November 2017.
Governor Deng Deng Akuei told Radio Tamazuj on Wednesday that the aim of his visit was to explain the events that led to the row between government and Paul Malong Awan saying the dispute was not a community issue.
"I went to Warawar for an enlightenment briefing and to provide assurance to the family members and others in the village that what happened was not a community affair. It is politics and politics are resolved through political process. So the briefing went well and people were very happy. They now know what happened and what is being done to resolve the matter. I told them elders are continuing with the mediation and that it will be resolved soon peacefully because his Excellency the president of the republic, Gen Salva Kiir Mayardit and the former chief of staff of the SPLA, Gen Paul Malong are ready to resolve the matter through peace dialogue," explained Deng.
The top state official dispelled rumours that family members and associates of the former army chief of staff could be targeted by the government on the basis of association.
"I assured them that they are citizens of the area and South Sudan to live without fear. Their security and safety since the dispute between the government and General Paul became the public matter has never changed," he said.
Deng said he cautioned the community in Warawar to be wary rumour mongers whose intentions is to cause disharmony because of previous link and association to Paul Malong, say he also worked with Malong.
"I told them if people become victims of the past association, I can be one of them because I worked with Gen. Paul Malong myself. So they should not fear," he assured.