Aweil East governor creates new counties, makes no appointments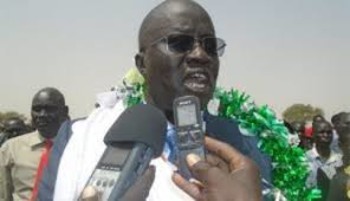 File photo: Governor Deng Deng Akuei
The governor of South Sudan's Aweil East State has issued a gubernatorial order creating five new counties and made no appointments.
Governor Deng Deng Akuei, according to the order which became public on Wednesday, divided Madhol, Malualbaai, Yargot, Wunlang and Mangok counties.
The order created Agurpiny county from Madhol, Lou from Malualbaai County, Wundiing from Mangok county, Manyiel from Wunlang county and Warlang from Yargot county.
State officials claim the orders were in fulfilment of the desire of the people and community leadership. But the locals have asked to carry out further consultations and make nominations of those they would like to be appointed into positions of the county commissioners.