N. BAHR EL GHAZAL -
23 Nov 2022
Aweil: Detained anti-corruption boss released on bail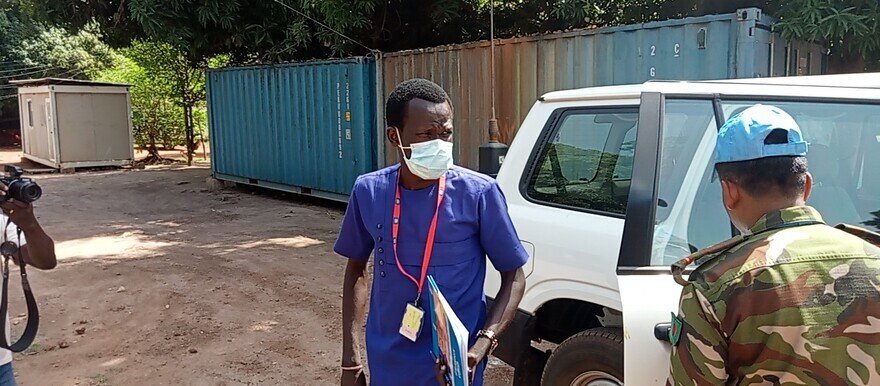 Northern Bahr el Ghazal State Anti-Corruption Commission Chairperson Anei Rok Akuei at Aweil UNMISS office on 27 May 2022. [Photo: Radio Tamazuj]
The detained Northern Bahr el Ghazal State's Anti-corruption Commission Chairperson was released on bail on Monday pending trial, a local official said.
Mr Anei Rok Akuei, a member of the opposition Sudan People's Liberation Movement in-Opposition (SPLM-IO), was arrested by police in Aweil town last Friday for allegedly assaulting security forces.
William Anyuon Kuol, the State Minister of Information, told Radio Tamazuj that the Chairperson of the Anti-Corruption Commission had been released on bail.
 "The Chairperson for Anti-Corruption Commission was involved in a physical fight. They had planned to attack the police on the roadsides on claims that their party members were blocked from receiving a delegation of their party that was coming from Juba," he explained.
For his part, the Anti-Corruption Commission Chairperson, Anei Rok, said he was arrested when asking the police to allow some party supporters to join the celebration. Mr Anei denied claims that he was involved in a fight with the police.
Meanwhile, the Aweil Community-Based Organizations Forum's Executive Director, Santino Deng Ngong, called for cooperation and respect among the various political parties in the state to avoid tensions.
 "If such issues are not handled well, it can cause tensions. As civil society, we want the parties to the peace agreement to cooperate among themselves," Deng concluded.
The Northern Bahr el Ghazal state's Anti-Corruption Commission Chairperson was also arrested last month before being released. The arrest came after he filed a report on mismanagement and embezzlement of public funds in the state.