Aweil citizens welcome reconciliation between Kiir and Malong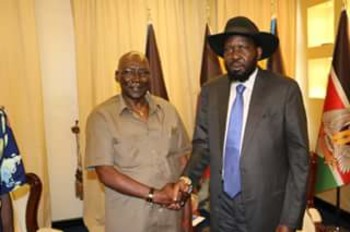 Photo: Kiir and Malong shake their hands after reconciliation. (Radio Tamazuj)
Citizens in Aweil town in South Sudan's Northern Bahr al Ghazal have welcomed reconciliation between President Kiir and General Paul Malong Awan, the former chief of general staff of the SPLA.
The two men held a meeting at the presidential palace last week and announced that differences between them have come to an end.
Differences between the two men arose last week after President Kiir removed Paul Malong Awan from his position and replaced him with James Ajongo Mawut.
In interviews conducted by Radio Tamazuj on Friday, several local residents in Aweil town said that the reconciliation process between Kiir and Malong will bring peace, adding that they are happy seeing the two leaders are reconciled.
Daniel Marach Yel, a pastor of the Seventh-day Adventist Church in the area, said the church is happy about the meeting that took place between Kiir and the former army chief of staff, Paul Malong Awan.
The Christian leader pointed out that South Sudan is suffering from wars economic crisis, but there is a time for peace.
Meanwhile, Paulino Akol Ngor, who is a program manager for the Aweil Organization for Development said they welcome the reconciliation between Kiir and Malong for the sake of peace in the country.
Akol urged South Sudan leaders to put the interest of citizens first.